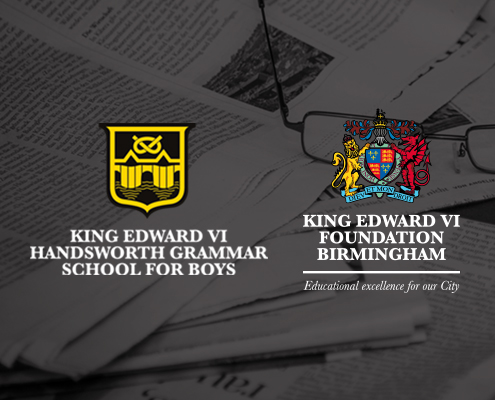 5 questions à Madame Minhas
Professeure à Handsworth Grammar School depuis plusieurs années, Madame Minhas a la particularité d'enseigner deux langues : le français et l'allemand. Notre journaliste, Asher Jordan, est allé à sa rencontre.
(Mrs Minhas has been a teacher at HGS for many years. Her particularity: she teaches French and German. Our journalist, Asher Jordan, went to meet her.)
Asher Jordan : Comment avez-vous commencé les langues ?
(How did you get into languages?)
Mme Minhas : J'ai vraiment aimé le français à l'école. Je voulais originalement faire du droit, et quand j'ai commencé à regarder des diplômes à l'université j'ai réalisé que je m'intéressais toujours au droit et au français. Je me suis rendue compte que j'aimais le français plus que le droit.
(I really enjoyed French at school, I originally wanted to go into law, and when I started looking at university degrees, I realised I was always looking at law and French, and I realised I liked French more than law.)
Asher Jordan : Comment êtes-vous devenue professeur ?
(How did you become a teacher?)
Mme Minhas : J'ai pensé que ça serait un bon travail à cause du salaire et des vacances, puis j'aime les enfants ! Et mon père m'a encouragée. Il pensait que ça serait un bon travail pour moi.
(I thought it would be a good job because of the pay and the holidays, and I like kids! And my father encouraged me, he thought it would be a good job for me to have.)
Asher Jordan : Est-ce que vous avez une langue préférée ? Pourquoi ?
(Do you have a preferred language? Why?)
Mme Minhas : Je préfère le français. Je trouve que le français est plus facile que l'allemand, c'est une langue plus naturelle pour moi.
(I prefer French. I find French easier than German, it comes more naturally to me.)
Asher Jordan : Est-ce que vous êtes déjà allée en Allemagne ou en France et si oui à quoi ces pays ressemblent ?
(Have you been to Germany or France and if so, what are those countries like?)
Mme Minhas : Cela fait un moment. Je suis allée à Berlin, lors d'un voyage d'histoire/science, avec des élèves d'ici. Je suis allée à Paris lors d'un autre voyage scolaire. C'était intéressant d'y aller en tant que professeure plutôt que touriste et d'aider les autres professeurs avec les réservations et d'autres choses.
(It has been a while. I went to Berlin, on a history/science school trip, with pupils here. I have been to Paris on another school trip. It was interesting going as a teacher rather than a tourist, and helping out the other teachers with reservations and other things.) 
Asher Jordan : Est-ce que vous aimez enseigner dans cette école ?
(Do you enjoy teaching at this school?)
Mme Minhas : J'adore être ici. Je ne voudrais pas travailler ailleurs. J'aime le personnel et certains des enfants, pas tous ! J'aime vraiment l'école.
(I love it here. I wouldn't want to work anywhere else. I like the staff, I like some of the kids, not all of them! I really like the school.)
Interview réalisée en français et retranscrite par Asher Jordan. Traduite par Mr Diaz.
https://www.handsworth.bham.sch.uk/wp-content/uploads/2020/11/Handsworth_News.jpg
400
495
Adam
https://www.handsworth.bham.sch.uk/wp-content/uploads/2017/11/kh.png
Adam
2019-07-18 09:01:29
2019-07-18 09:05:45
5 questions à Madame Minhas