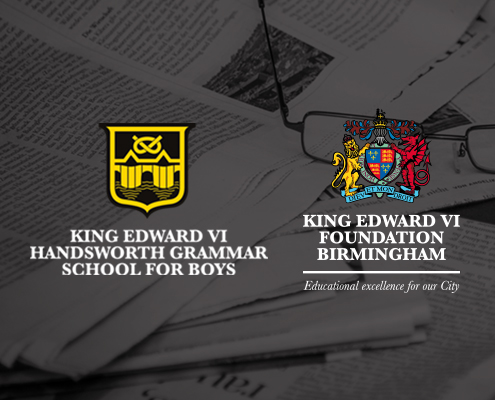 The Equality and Diversity committee met this week and have agreed an Anti-Discrimination statement as follows:
ANTI-DISCRIMINATION STATEMENT
King Edward VI Handsworth Grammar School for Boys is firmly committed to maintaining a culture of diversity, inclusion and equity in all aspects of school life, nurturing everyone's ability to thrive in a non-hostile environment, regardless of race, religion, age, sex and gender identity, sexual orientation, marital status, pregnancy and fertility status, disability and neurodiversity. We celebrate our school's blend of minds, backgrounds and experiences, and have a strong and all-encompassing stance against any form of discrimination.  
Through the modelling and guidance of our leaders, our policies and procedures, our curricular, extra-curricular and pastoral programmes, and with an open communication policy where the individual's view and wellbeing are centre-stage, we strive in our daily work to continue to learn and respond to our community's needs and lived experiences, holding firm to our school aims, ethos and rule. We recognise the need for ongoing reflection and evaluation against a chosen recognised quality standard, not shying away from taking the necessary corrective and preventive action if required.
We will PERSEVERE with humility in our fight for an equal and just world.
Nobody's AMBITION will be impaired because of discrimination. 
Everyone will have the same OPPORTUNITY to flourish in their life. 
The visible and invisible qualities that make our school COMMUNITY are welcomed, encouraged and fought for.  
In having a clear vision of the positive and progressive impact firm anti-discrimination structures can have in our world, recognising our role in nurturing well-rounded individuals who are a force for good, KEVI HGS's Rule – Treat everybody with respect – demands all forms of inequality are everyone's concern. 
This will be the framework within which we will operate going forward into next academic year. It was agreed by all that awareness, understanding and education are the key drivers of changing society and communities for the better. The work of the committee will link to the work undertaken by the School Council who sit on the King Edward VI Foundation Equality, Diversity and Inclusion committee. The next steps are exciting as the committee have been tasked with considering ways to actively and positively promote Equality and Diversity within and across our school community. This could link to work on Enrichment days, in Assemblies, Form time activities as well as within the wider academic curriculum.
It was a very positive meeting with some excellent contributions from all students. Mr Mohsin and Dr Bird were impressed by the student's commitment and energy. They emphasised the importance of student leadership and engagement and that this was a symbiotic relationship between students and staff where both elements of the school community could learn from each other.
Exciting times are ahead!
Mr Mohsin and Dr Bird
https://www.handsworth.bham.sch.uk/wp-content/uploads/2020/11/Handsworth_News.jpg
400
495
Adam
https://www.handsworth.bham.sch.uk/wp-content/uploads/2017/11/kh.png
Adam
2021-07-13 19:41:08
2021-07-13 19:41:50
Equality and Diversity Committee