Remembrance Assembly 2019
King Edward VI Handsworth Grammar School for Boys held its annual Remembrance Assembly in Big School on Friday 8th November 2019. We were delighted to welcome a number of Governors, Charity Trustees and Old Boys to school to mark the occasion and share in this significant and important annual event. The Reverend Dr Bob Stephen who is Chair of the Governing Body and Rector of Handsworth led the act of Remembrance. The Headmaster delivered a very timely and thought provoking address which highlighted the necessity to work towards peace in all we do. He highlighted that important facets of life such as showing respect and tolerance of each other, being kind and compassionate and celebrating our differences are all highly significant steps on the road to peace. He emphasised the need for the values of peace, freedom and hope in all we do.
Dr Bird highlighted the 75th anniversary of D-Day and referred to the importance of Normandy as a place of remembrance and reconciliation through the work of the Normandy World Peace Forum. Last June about 250 men and women boarded aircraft in the UK and exactly like 75 years before flew across the English Channel and carried out a parachute drop over the historic drop zones of Normandy. There were also military parades, acts of remembrance, giant picnics, concerts and firework displays to commemorate the D-Day landings which eventually led to global peace and freedom and involved troops from America, Britain, Canada, Belgium, Denmark, Holland, Norway, Poland and Australia. He also highlighted the civilian victims of war and acts of terrorism such as the Manchester Arena attack in 2017 thus focussing upon the human cost of conflict.
The Senior Prefect team of Hasnain Sumar, Deborah Sepo, Isaac Minto , Reanne Chandla and Jay Patel all took an active part in the Assembly by reading poems and reflections whilst Hasnain laid a wreath at the stained glass window with Mr Jim McAvan who represented the President of the Bridge Trust Society. It was a very special event and a fitting tribute to the Old Boys whose names are listed on the memorial plaques in Big School. Big School was full as Year 7 students attended the assembly whilst the remainder of school observed the occasion in their Form assemblies.
Haec Olim Meminisse Iuvabit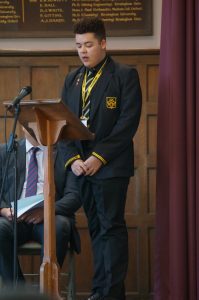 https://www.handsworth.bham.sch.uk/wp-content/uploads/2019/11/Remembrance-Assembly-2019-20.jpg
3264
4912
Adam
https://www.handsworth.bham.sch.uk/wp-content/uploads/2017/11/kh.png
Adam
2019-11-08 11:54:42
2019-11-08 12:16:34
Remembrance Assembly 2019